Do you remember 'The Rachel'? Anyone who has watched FRIENDS and admired Jennifer Aniston's style in the sitcom will remember this famous haircut from the first few seasons. 'The Rachel' is a layered shaggy cut which was debuted by Jennifer's character in Friends in 1994. It gained a lot of popularity and is regarded as an iconic haircut of all times.
Whether it is the Rachel or any other haircut, one has to admit – Jennifer is blessed with amazing hair and skin! Over the last few years, her hairstyles have evolved a lot. She is someone who can carry off most trends – from long hair to short bobs, fringes to bangs and poker straight ponytails to layered, beachy waves. Jennifer tries to keep things simple and natural, so her health and style secrets are an inspiration for many!
In 2012, Jennifer joined forces with hair brand Living Proof as co-owner and spokesperson for the company. Soon after in 2013, she involved her hairstylist Chris McMillan (creator of 'The Rachel') as a celebrity hairstylist for the brand. Living Proof has a unique approach to hair care – it combines science and innovation to deliver a hair care solution that actually works! This is probably what drew Jennifer's attention to the brand.
On my recent visit to New York, I discovered magic in a bottle, when I chanced upon the Living Proof Perfect Hair Day (PHD) collection at Sephora. PHD is an effective and simple solution which can be used on a regular basis for strong, healthy and beautiful hair.
My favorite from this range is the PHD 5-in-1 styling treatment which is a styling cream you can use in your daily hair care routine. My hair tends to get frizzy and dry, so I have been on the lookout for a good styling cream for a long time but had no success! Most hair styling creams either weigh my hair down badly, or just make it prone to breakage. So I was pleasantly surprised to discover that PHD was drastically different!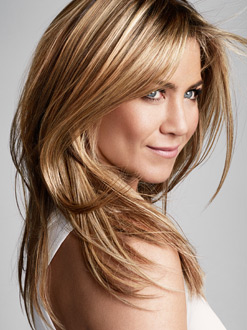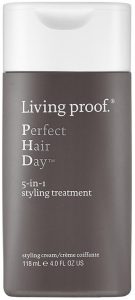 A single application of the PHD styling cream delivers several benefits – smoothness, volume, strength and shine. It also helps maintain your natural hair style and reduces breakage thus making hair stronger and healthier. Here is what I love about using PHD:
It does not weigh my hair down. The solution is super light and does not make my hair greasy or damp. It almost feels like I have applied nothing at all.
It enhances the natural texture of my hair without the use of any additional tools such as a hair dryer. Having said that, it can also be used with styling tools to get a different look.
It smells amazing, gives my hair just the right amount of shine and gloss, and also provides heat and UV protection!
It keeps my hair cleaner for longer. Earlier I would find the need to shampoo my hair almost daily, but with this cream, I am able to maintain my natural style for at least 2 days.
It is free from harmful chemicals found in most other hair products. It even works well on chemically treated hair.
It is easy to apply! Just take a pea sized amount and distribute it evenly from roots to ends on clean, damp hair. Comb through for an easy going look, or blow dry for a more styled look.
It is affordable. You can get the 4 OZ bottle for just $26, and it lasts a fair amount of time.
This is probably the first styling cream that actually works on my hair, so I am over the moon. I have been using it for a little over two weeks now and love the results. I plan to test the other PHD products – shampoo, conditioner and night protector soon.
I suggest you give it a try too, and let me know if you discover any additional benefits from it's usage! You can buy it online on their website or offline at Sephora.
(Image Credits: Living Proof Website)
(This is not a Sponsored post. Read details on my Disclosure Policy here.)