Update: I made the Mocha overnight oats recipe for my breakfast the day after this post and am so excited to tell you all that it tastes exactly like dessert! The tweaks I made – I added cold coffee (instant coffee powder and honey added to cold milk), dark chocolate powder, walnuts, chia seeds and flax seeds to my oats and let them stay overnight. I topped them with some dark chocolate chips in the morning and started my day with an indulgent yet healthy breakfast! They taste really good, and are super quick and easy to make. Definitely try this recipe when you can!  
Happy Monday everyone! How has October started for all of you? I love October as it marks the slow arrival of winter – a time for warm foods, rich hues and deep conversations! I celebrated the onset of my favorite month by taking a break to rest and refresh, and I am all charged up for the last 3 months of the year.
I completely switched off last week by traveling to a charming hill station, visiting relatives, sleeping (a lot) and going offline (except for the occasional cheating with Pinterest). I didn't plan a lot for this break, I just wanted to spend some time resting and thinking. I have had a busy 2015 and I realized it's only going to get busier, so I am happy I took a vacation without a set agenda on the plate! However there are two things I really missed over the last one week – this sparkly space and all my lovely readers! I am glad to be back and promise there won't be a break for a long time on the blog now. Instead, I will plan some exciting posts to make up for my absence over the past few months.
For today's inspired Monday's post, I wanted to share ideas and recipes for a wonderful breakfast option to get your week started on the right track – overnight oatmeal! Overnight oats have been a star online for some time now, and I realize I am late to the party. Even though I have never tried it myself, fellow bloggers are raving about it's benefits and taste alike, so I am definitely giving it a shot this week!
One thing I realized early on is that breakfast truly is the most important meal of the day. Breakfast like a king and dinner like a pauper has been my diet plan for a long time now. Oats are one of the healthiest options for a power packed breakfast. They are loaded with fiber, protein and other essentials, keep you full for longer and help in maintaining good heart health. Overnight oats have even more advantages – they are super easy to prepare, are highly customizable and taste so great! Just throw your favorite ingredients together with milk, freeze them overnight and wake up to amazing, ready to go breakfast the next day. You can get as creative with the toppings as you like – fruits, nuts, chocolate – there is no set recipe here!
The basic way to make overnight oats stays the same. Add milk and yogurt to regular oats in a bowl (or mason jar if you like it to-go). Add less milk if you want firmer oats, and more yogurt if you want to make it creamier. Then add a combination of your favorite toppings – fruits and nuts for taste, pumpkin/sunflower/flax/chia seeds for crunch, cinnamon, vanilla and nut butter for added flavor, and chocolate or peanut butter to make it more decadent! You can add all the toppings at night, but if you want it crunchier, leave some of the fruit and nut toppings for the morning. For a recipe with more precise instructions, go here.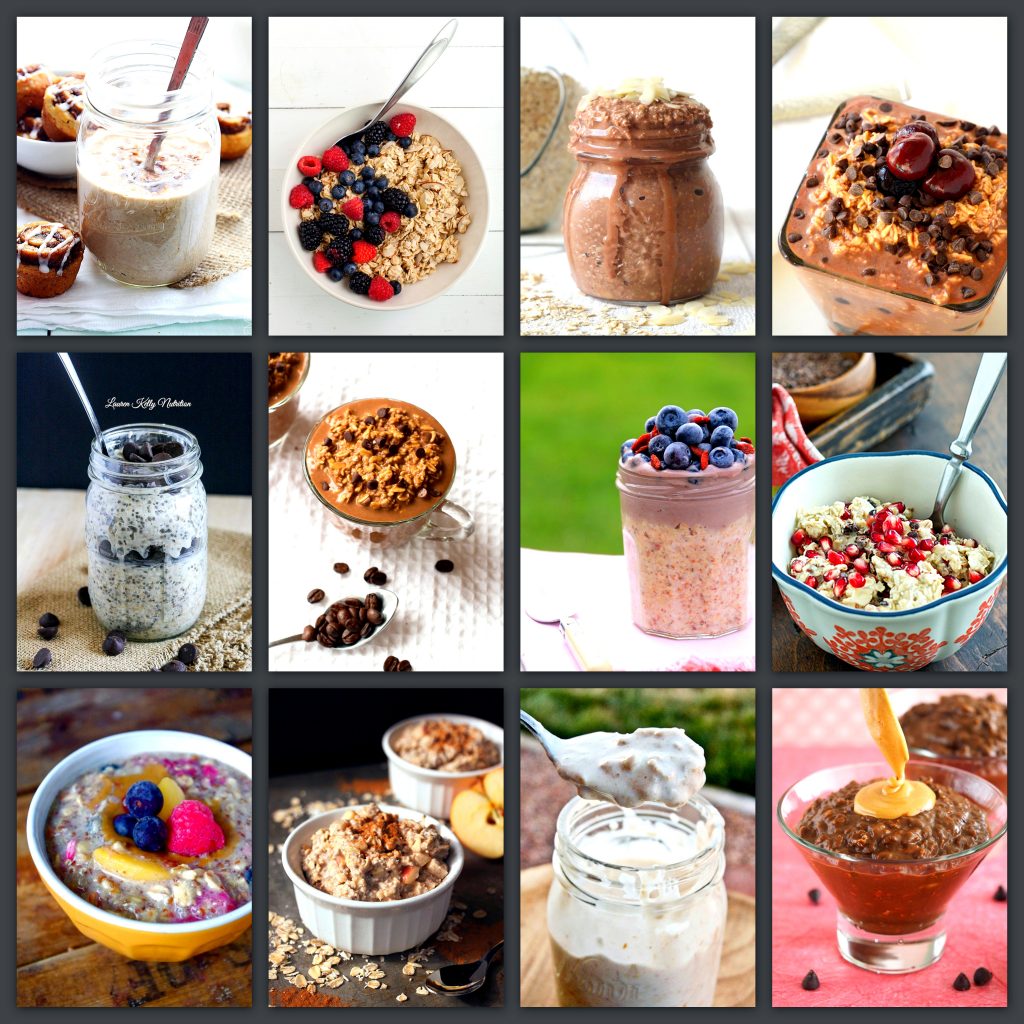 Below are 12 of my favorite overnight oats recipes from around the internet (clockwise from top):
If you love your oatmeal and can't find a recipe you like above, head over to these sites for a list of never ending overnight oats recipes:
Go ahead and make yourself some amazing breakfast by trying one of the recipes above. It is super quick and easy to put together, so you can't make any excuses for skipping that breakfast today! If you try a recipe, do share your experience by leaving a note in the comments below.
(Image Credits: All images are credited to their respective recipe sources linked above)