The holiday weekend is almost upon us, and what better way to welcome it than this Toby Keith Wild Shot Tequila Cocktail. The flavors are tropical, recipe is easy and the colors scream Fourth of July! Let your hair down mixing and drinking this fun cocktail over the weekend.
Note – I came across this recipe on Chilled Magazine and have reproduced it as is for my readers; all credits and original rights of the recipe reside with the website.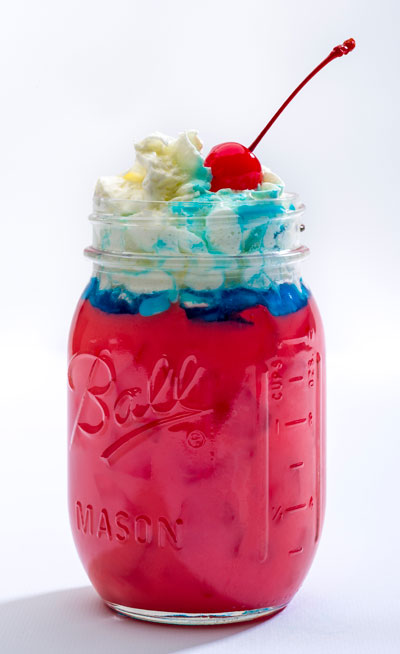 Toby Keith's All-American Jar
Ingredients:
2.25 oz Wild Shot Silver Mezcal
1 oz Coconut Rum
.25 oz Triple Sec
.25 oz Pineapple Juice
1 cup Piña Colada Mix
1 cup Strawberry Daiquiri Mix
1.25 cups Crushed Ice
Preparation:
In a blender with ice add Wild Shot Silver, Malibu Rum, Triple Sec, pineapple juice and piña colada mix. Blend until thick. Pour half of blender in separate glass, then add Strawberry Daiquiri Mix to blender. Blend until mixed and pour blended strawberry mix into mason jar. Add the separate glass of blended product to the mason jar.
Garnish:
Blue Curacao, whipped cream, cherry.
(Recipe & Image Credits: Chilled Magazine)