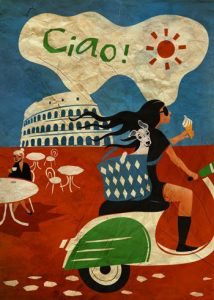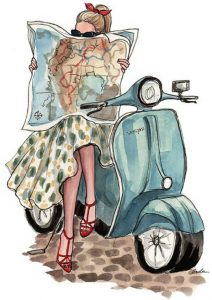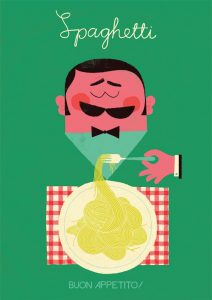 Hello happy people, welcome to Tuesday! Last week, I asked you to pick a destination for my next travel tales post. Thanks for picking Italy – a gorgeous mix of art, culture, love and life!
While I was very excited to cover Italy this week, I discovered it might not be as easy as it looks. Italy is an iconic nation with each of its cities offering a myriad splattering of art, history, architecture, fashion, food and culture. A travel post on Italy will not be complete unless we discuss detailed itineraries for Rome, Venice, Florence, Pisa and other cities.
So in this post, I decided to share some broad resources and guides for planning your vacation to Italy, but decided to keep city specific details for another time. I promise to follow up with dedicated posts on some of the top and most visited Italian cities – Rome, Venice, Capri and more in the coming weeks.
Italy is famous for: pizza (invented in Naples), cheese, Vatican City, art (3000+ museums), piano, Venice, fashion (Milan), culture, Vespas, the Mafia, pasta (national dish), the Colosseum, vineyards, leaning tower of Pisa, coffee (first coffee machine introduced in Milan) and gelato ice-cream.
My top tips for planning a visit to Italy (or anywhere really):
Make sure you plan at least a 2 week vacation so you can cover as much ground as possible in one go.
Pack smart and light. There is a reason backpacking is so famous in Europe – you won't enjoy lugging a giant suitcase through your entire trip.
Don't be

just

 a tourist! Mingle with the residents, try authentic cuisine and indulge in local events, festivals or activities. This is the best way to absorb the rich culture of a place.
Pick up some basic Italian before you travel. This will help you throughout your visit.
Pack a good camera – your phone won't seal the deal here. You will need a good lens to capture all the possible dimensions of beautiful Italy.
Disconnect as far as possible. Like the Italians say 'Dolce Far Niente' – experience the sweetness of doing nothing, and just be!
Now lets move on to the travel guides part of the post. Here are my top picks from the internet which will help you prepare well for your Italy vacation. If you know of additional or better resources, drop me a note!
Travel Guides: Comprehensive guides which cover almost everything from food, hotels, language to cultural nuances. Most of these are also updated on a regular basis with current attractions/events so definitely worth a read.
Travel Info-graphics: Makes it easy to absorb all that information – plus you can save the images on your phone to ensure critical travel information is always available and you don't miss out on anything!
Plan your Itinerary: Like I mentioned, book for at least 2 weeks of travel to ensure you cover all the hot spots in Italy. Research, plan and create the perfect itinerary for your fortnight long vacation.
Things to do/Attractions: This list covers the top attractions and cities in Italy – some of these probably deserve a post of their own! Skim through the list and pick your favorite spots for planning your trip.
Traveling within Italy: All that inter-city travel would not be possible without these effective train and bus travel tips and resources.
Food, Restaurants & More: This will probably be your next best experience after exploring art in Italy. Make sure you try out these culinary delights, or your trip won't be complete!
Fashion & Clothing: Pack like a pro and dress like a local when in Italy.
Other things: Pick up some photography tips and learn some basic Italian to get through your vacation!
Top Traveler Tips: Make sure you cover these essentials when planning your vacation.
Culture Shock: Given the rich culture and heritage of the city, adjusting to the local temperament might be more difficult than you thought. Skim through these cultural tips and nuances to make sure you are well covered on your trip to Italy.
The top cities: Rome, Venice and Florence feature on more than one Italy travel guide, so they definitely deserve their own post on this blog! But till the time I actually put those together, here is some random inspiration on things to do in these cities during your trip to Italy. (Note that none of the activities mentioned below speak to the top attractions in that city. This is inspiration for you to try something different and unique if you decide to visit them!)
(Cover Images: Tumblr, A Thoughtful Place, Irving & Co)