Once in a while, I like to feature a blogger whose work is truly creative and inspirational. This week, I am covering my sister's blog 'The Love of Cakes'. I feature blogs only when they have amazing content – and it makes me happy that her blog is one of them.
My sister is one of the most talented individuals I know. She is a dentist by profession, but a baker at heart. She has been baking for several years now, and I have seen her skills improve leaps and bounds with every attempt.
What makes her different? Since she is a doctor by profession and also a health and nutrition freak, she often looks for recipes with a healthy twist. She tries to find substitutes for everything – all-purpose flour, eggs and sometimes even sugar! Just this weekend, she made a mean batch of oat waffles for our Sunday brunch. She isn't obsessed with just baking – she can cook up quite a storm in the kitchen. She also feeds my smoothie addiction now and then by trying new recipes (thanks sis!).
Despite her healthy tweaks and experiments, the taste has always been phenomenal. Her recipes are fresh and full of flavor. Each one has been a success at home as well as outside!
My absolute favorite from her site – the delicious chocolate flavored owl cake. She baked this as a surprise for my promotion.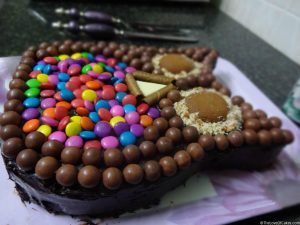 I am sure you will find interesting bakes to try when you explore her blog. She has covered a myriad number of flavors through her recipes – chocolate, peanut butter, fruit, coffee, apple, cinnamon and more!
Whatever your comfort level with baking, and irrespective of whether you are preparing for a party or just trying something different for dinner – her blog will always have a recipe which meets your requirements.
Go on and share some love. Happy baking!