Happy Monday people; are you feeling inspired for your week ahead? To start your day on a healthy note, I am featuring some helpful information on juice cleanses on the blog today.
A juice cleanse (or juice detox) has gained massive popularity as a quick and easy way to lose weight and flush out toxins from your body. It usually involves an intake of only certain raw fruit and vegetable concoctions for 1, 3 or 5 days. Before we dive deeper into the benefits of a cleanse and how it works, I want to publish a disclaimer: I do not endorse juicing as a regular practice. There are two strong reasons to support my statement. First of all, eating your fruits and vegetables whole is the best way to get nutrition from them. Eat right and eat healthy on a daily basis instead of resorting to a juice cleanse as a quick fix to reset your body. And second of all, moderation is the key to everything in life. If you must try a juice cleanse, do it as an exception and not the norm.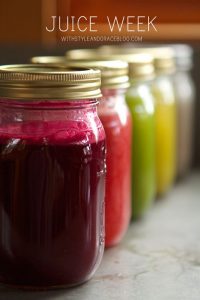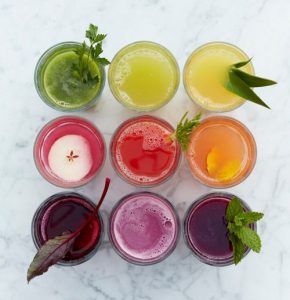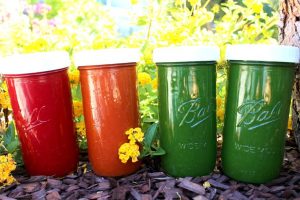 There are however, a few benefits of going on a juice cleanse once in a while:
Getting your body acquainted with fruits and vegetables – If you have always been a picky eater who won't finish their vegetables, than a juice cleanse is a good way to adjust your tongue and palette to the taste of different fruits and vegetables.
Help reduce unhealthy cravings – When you consume raw fruits and vegetables, with time your body adjusts to healthier alternatives and craves less of the unhealthy food groups. A juice cleanse can be a good way to embark on a minimalist and healthy lifestyle.
Add a large variety of fruits and vegetables to your diet – We tend to stick to the same food groups during our daily routines, so doing a juice cleanse can help introduce new flavors in our diet.
Lose flab, add fiber to your diet, get glowing skin and healthy hair – The short term benefits of a juice cleanse are many; a lighter body and glowing skin are at the top of the list!
Good way to start or get back on track with healthy eating – I try and eat healthy most days of the year, but even a single event can offset my diet and bring me back to my unhealthy habits. A cleanse is a good way to get back on track and start where one left off.
Like I said in the beginning of the post, I do not recommend juice cleanses as a long term health or diet plan. It is better to adjust your daily lifestyle to include a healthy dose of fruits and vegetables. These juices should be included to complement your diet, and not as meal replacements.
However, I have myself tried a juice cleanse for short term gains in the recent past. So if you want to give it a shot too, make sure you follow these tips:
Ease in and out of a juice cleanse. If you are eating unhealthy before and after, your body will reap no benefits from the cleanse. Start eliminating unhealthy food groups a day or two before the cleanse, and continue to eat light, raw and fresh after the cleanse. Not doing so can make you ill (as I discovered during my first cleanse!)
Start your day with warm lemon water and drink liquids such as water, green tea throughout the day. Drink something (either the juice or water) every hour during the cleanse.
You may or may not end your day with a meal that includes a lean protein and green vegetables. A huge vegetarian salad with tofu or cottage cheese is a good idea.
Check with your doctor before signing up for a cleanse! Avoid it if you have health concerns which can actually make you feel worse after a cleanse. Also, avoid signing up for a cleanse when you are on your period.
Stick to 1 or 3 days at the most for any juice cleanse. Your body needs the right amount of fats, proteins and carbohydrates to function, and the maximum it can sustain itself without them is 72 hours.
Do indulge in some light exercises during the cleanse. Some yoga stretches or even a 30 minute walk is a good idea.
Don't survive only on the liquids! Eat portions of raw, uncooked fruits and vegetables throughout the day. You can also add nuts and dry fruits for additional fuel and energy. Just keep it natural and organic!
Keep track of how you feel through the day. If you notice symptoms of diarrhea, low blood pressure or lethargy, grab a healthy uncooked meal like a salad or fruit bowl. If the symptoms persist, drop the cleanse.
Stick to organic juices and go for a brand which is consistent with their quality standards. If you must prepare the juices at home, make sure you do so with the guidance of a good nutritionist.
If you want to read more, you can get your juicing 101 fix from these info-graphics. The ultimate guide to fresh juicing, Juice combinations for maximum benefits, A-Z raw ingredients for juicing.
And if you are ready to do your first cleanse, I suggest sticking to the professionals and ordering from some of the popular juicing brands out there. Juicing brands which are endorsed by celebrities include Organic Avenue (Love Deep Cleanse) and Blueprint (Coffee Cashew is popular). Back home in India, I would suggest RAW Pressery, Justpressed and Antidote.
If you must go the DIY route and make your juices at home, then scour Pinterest for recipes! There are several juicing recipes out there, I like these in particular: Building a Better Lydia, Figgy and Sprout and Reboot your life!
Once again, I cannot reiterate the importance of moderation here. Do a cleanse once in six months to get your diet back on track or prepare for an important life event where you need to look good. Use the cleanse juices regularly to complement a well balanced diet, but don't make them a habit or quick fix for your lifestyle!
What do you think of a juice cleanse, and would you go for it? Or better still, have you tried a juice cleanse before? If yes, do share your learning's with us using comments below! 
(Image Credits: Image 1, Image 2, Image 3)