Hello wonderful people! This week on the blog is 'how-to' week, so for the Tuesday travel post, I am covering a tip which is important for every traveler – seasoned or rookie.
Today I am sharing 4 essential visuals which will tell us 'How to travel light by packing everything in a carry-on'. 
I travel frequently, and clock an average of 8-10 trips (domestic and international / business or leisure) every year. But I struggle with the concept of packing and traveling light. I also shop a lot, adding one additional bag per trip to my luggage collection. During my last international trip, I brought back 3 suitcases and ended up paying 200 dollars to airport security for excess baggage!
Another thing that happened this time was, the airline carrier mixed up my baggage, and I had to spend one night in NYC with nothing but my carry-on! I got my bag back, but that is when I realized the importance of a) packing light and b) trying to pack everything in my carry-on to minimize the hassles of checked-in baggage.
So here are some top tips via visuals to help you pack everything for your next vacation in a carry-on. Image 1 & 2 will give you an idea on what can and cannot be carried, and how you can optimize your packing in a carry-on to reduce baggage stress. Image 3 has some general packing tips and tricks which will minimize packing efforts and save you grief. And finally, Image 4 is a short and easy flow chart to help with your packing decisions.
Do you have any tips or suggestions for packing your carry-on when traveling? Do share in the comments below!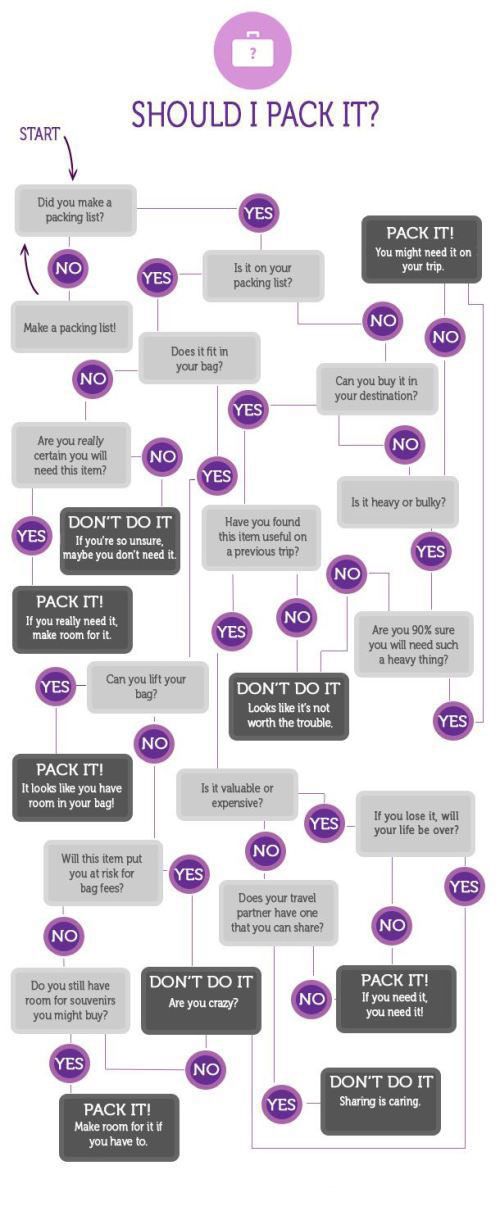 (Image Credits: Image 1, Image 2, Image 3, Image 4)