Hello everyone! I had so much fun putting together today's travel Post! As I mentioned last week, I am finally getting to visit Paris for a day in May 2015. And today's travel post is aimed at finalizing an itinerary which will help me get the maximum out of my one-day visit.
Paris has so much to offer that even a month would fall short to discover the city and its charms in their entirety. So with just one day in hand, I had to figure out how I can maximize my itinerary and cover the most important attractions in less than 24 hours!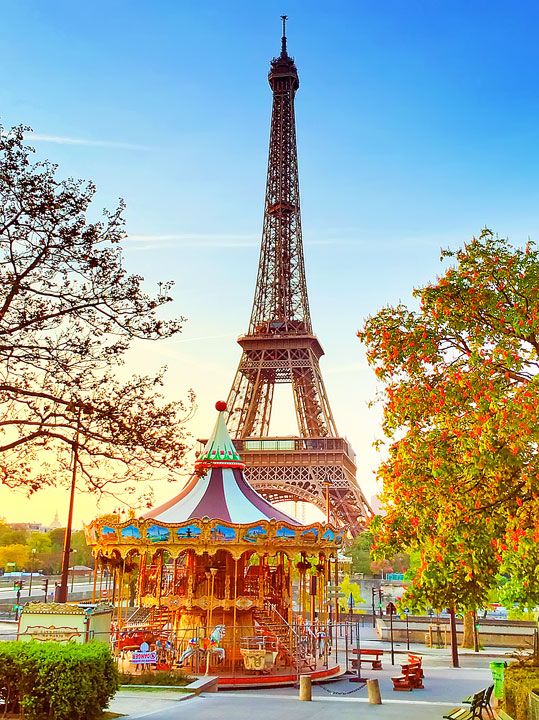 If there's one thing I haven't told you before, its this: I like to plan my travel. Right from the tickets, hotels, budget to the sightseeing and shopping – I have an agenda for everything. Also, I like to walk around the city I am visiting. I try not to take cabs as far as possible, and like exploring the entire place on foot. And lastly, I am big on photography! I think this is the best way to create memories from your travel experiences.
So keeping these three things in mind, I did a quick search on the main attractions for a one-day visit to Paris. The top ones were: Eiffel Tower, Notre Dame, Arc de Triomphe, Champs-Élysées, The Louvre, River Seine Walk and Tour Montparnasse! And to add to this, I had some personal items I definitely wanted to cover: a tour of Montmartre District, Moulin Rouge, Ladurée, Angelina, and the Wall of Love! I also stumbled upon this beautiful hidden Paris walking tour and felt like I had to add it to my list.
Now this is a lot of ground to cover, and while I could have easily done this had I been in the US, I was getting thoroughly confused by all these locations on the map of Paris! And then I discovered a fantastic tool which can help plan even the most crazy of itineraries: VisitaCity.com. This is an amazing website! It creates a plan using common itineraries and then helps you adjust it by adding or deleting locations depending on your preferences. And the best part – it puts all your locations on a map, so you can move things around to create the perfect self guided walking tour – so useful!
Using this website, I easily put together a custom plan for my one day visit covering all the hot spots I wanted to see. It even let me save the customized version (with the map) in a PDF format, added estimated walking times, descriptions and tourist details for all the sights. And it gave me a breakdown of costs with and without the Paris Pass! What else does one need?
So here's how I am planning to cover Paris in one day:
Morning: Cover the top sights and attractions of the city.
Start the day with a visit to Montparnasse Tower.
Post that, visit Notre Dame and then the Louvre Museum.
After the museum, talk a walk around the Seine River.
End the walk with a lovely lunch near the Eiffel Tower.
After visiting the Eiffel Tower, visit Champs-Élysées and Arc de Triomphe.
Afternoon: Walk and discover the picturesque side of Paris!
Proceed to see the Moulin Rouge, Montmarte District and the Wall of Love.
Then start the self-guided walking/photography tour at Passage du Grand Cerf.
Wrap up the walking tour at Le Saint Régis.
Evening: Dinner, souvenirs and Paris at night!
Pay a visit to Ladurée and Angelina for dinner.
End my day with a visit to the Eiffel Tower to see its magic at night!
Doesn't this sound like a fabulous plan? According to Visit A City, the entire day will cost me less than $60. Here's what my walking map looks like for the day: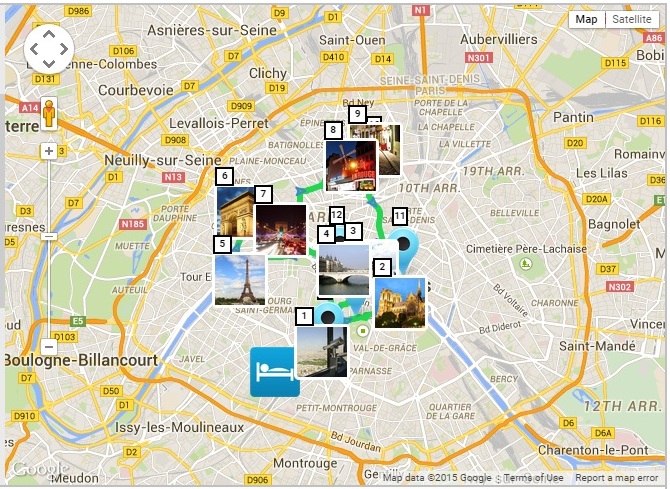 The only change I might make is shift the walking tour to the morning half, and cover the top sights in the second half. I will take a call on that after checking with the concierge at my hotel!
So what do you think? Does my plan sound reasonable, or am I being greedy and trying to cover too much in one day? If you have planned a one day visit to Paris, do leave me some thoughts via comments below. I am so excited for my visit!