Happy 2017 to all you happy, shiny people! There's something about 2017 that's got me all excited and optimistic – this year feels like it's going to be magical. Or maybe this is just the hope that kicks in with the start of a new year talking. 365 days, 52 weeks and 12 splendid months which we can fill with fresh moments and new stories. So let's go all out this year and make lots of magical memories.
Every year in January, I do a post on new year resolutions (2015, 2016) or share printables (2015, 2016) which could help us plan better for the year ahead. But this year, I wanted to do something different. One should not make resolutions only at the start of a new year – any day, any time of the year is good when you want to start something new. So instead of sharing elaborate resolutions or describing promises we make to ourselves every Jan, I wanted to list 17 things we could try and do throughout the year to make it memorable and different!
I can't wait to see how many I can check off the list as the year rolls along. Do you like this checklist, or have one of your own for the coming year? Do share with me via comments, and together we can circle back at the end of the year to see how we fared. Happy, sparkly, magical 2017!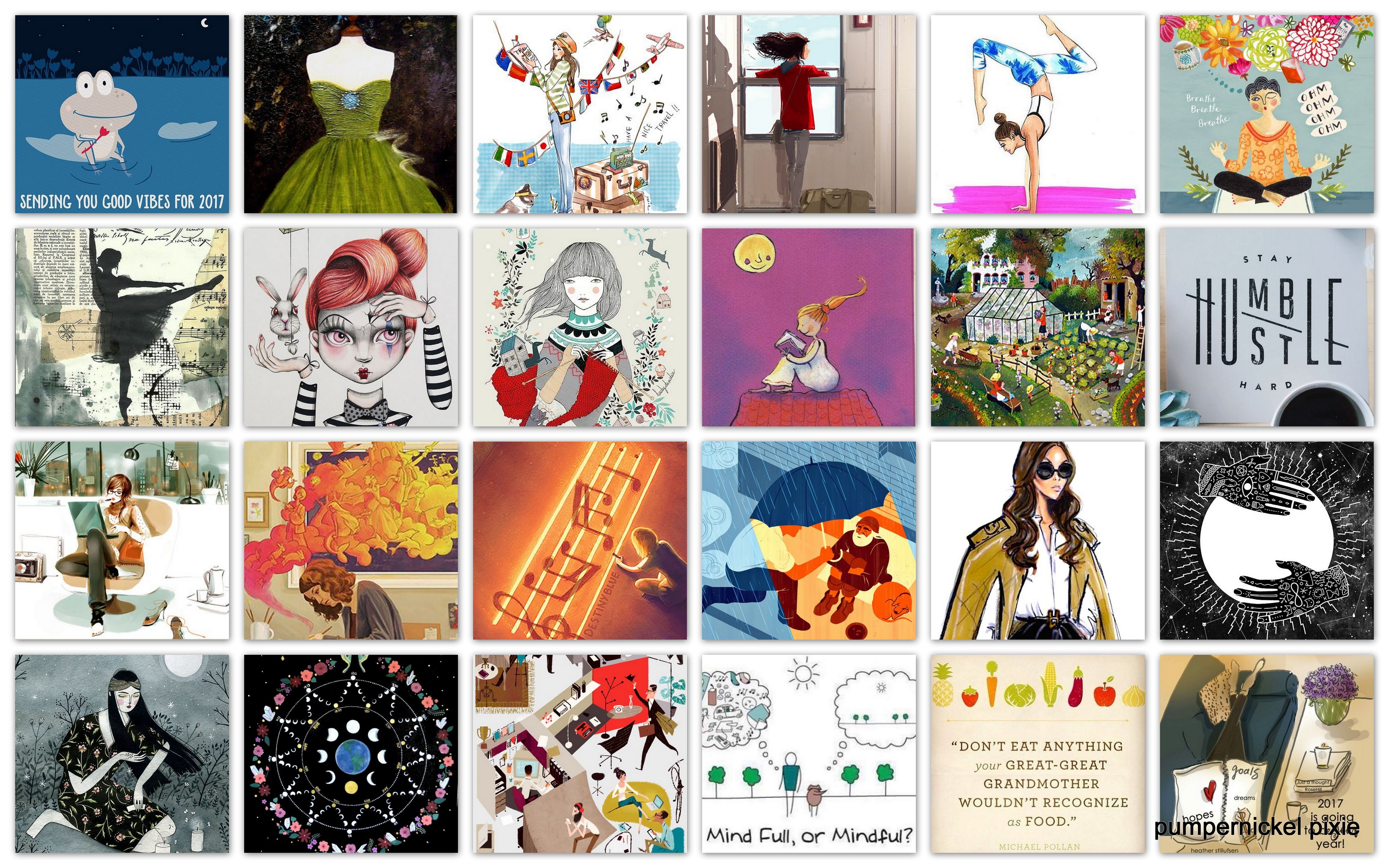 Buy (and wear) something in the Pantone color of the year 2017 – Greenery. What a lovely, bright, happy and positive color green is. If you are feeling really adventurous, grab this NYX lipstick in key lime, or this quilted velvet coat from ASOS. If you would rather be subtle, pick up the Gargantuan Green Grape nail paint from OPI.
Plan a trip to a place which is not on your travel wishlist. We all want to backpack across Europe or climb the Empire State building in NYC. But how about exploring a part of the world that has not really enchanted you yet? Who knows what you might end up discovering – maybe even yourself! While I have been to Singapore and really want to go to Bali, there are still some parts of South East Asia which have never really made it to my travel wishlist. So this year I would like to surprise myself and plan a trip to either Vietnam, Malaysia or Thailand.
Pick up one fitness challenge and nail it before the year ends. Want to master breathing techniques in Yoga? Always wanted to run a marathon? Whatever your fitness goal, this is the time to give it your best shot. This year, I want to start and get consistent with strength training at the gym. I already started my classes last week, I do hope I can stick it out through the rest of the year!
Learn a new language or skill. Enroll for language lessons, sign up for dance classes or take a photography e-course. Just pick up a skill you like and invest time in learning something new. I am going to try and learn a new language or sign for up music/dance classes this year.
 Try a 30 day challenge during the course of the year. There are countless 30 day challenges on the internet which can help you lose weight, practice mindfulness or even find happiness! Pick a challenge and try to make it till the end. Given my word of the year is "Balance" and it's something I truly want to incorporate in all parts of my life, I might take a shot at this 30 day Balance Challenge.
Take time out for your hobbies, and try completing a specific project this year. If you like crossword puzzles, try and do 1 for every day of the year. Or if you enjoy drawing/sketching, publish a sketch on your social network profile once a month. Just take time to do something that makes your soul happy. I really want to spend some time crocheting/knitting this year.
Read one book from a different genre every month. When I read, I end up sticking to the genre or author that I enjoy the most. However this year, I want to deviate from reading fiction and travel writing and explore non-fiction or biographical works instead.
Spend more time with nature whichever way you can. The easiest way is to try and take a walk in the park every day, or you could take up gardening and increase the green quotient of your house. I would really like to plant and grow something colorful in our garden this year.
Invest time and energy in building a side hustle this year. While we are all doing what we can with our day jobs, it's amazing to have a side hustle that keeps things interesting! Start an Etsy shop, build your blog or invest in property – whatever it is that you can sustain on the side.
Write something, write anything! Like adult coloring books, writing too can be a huge stress-buster. All of us don't have to be creative geniuses or grammar champions to write our heart out. So this year, try your hand at writing a journal, a letter or even a story!  I am going to take a shot at writing a book filled with my travel experiences. I might even publish snapshots from it on my blog!
Watch less TV and listen to more music this year. This one is so relevant for me! I have the capacity to vegetate in front of the television and indulge in movie marathons every other weekend. With the exception of my favorite stress-buster F.R.I.E.N.D.S, I really hope to spend less time on TV and more on Spotify this year.
Give back to society in the form of time or money. There really is no better feeling than the joy you get when you help those who are less fortunate. Contributing to a cause you care about or volunteering at a charity you admire is a great way to give back to society.
Dress up every single day of your work week. Take out that wine lipstick for fall, wear the heels you brought last spring or try a half moon manicure for valentine's day. Try new trends (or not!), but just make sure you dress sharp and smart for work every.single.day, no excuses.
Try one full moon ritual to get rid of negativity. There are 12 beautiful full moons coming up this year, and you can use the energy of the moon to manifest your intentions, polish your affirmations, let go of negative energy or start a gratitude practice. Give it a shot and see how your life changes in the days to come!
Pick up an unusual project or challenge at work. Your workplace can offer so many more opportunities than just the job you are doing. Whether it is mentoring juniors, taking a training, volunteering with another department or going back to school through an affiliate program – take more initiative in exploring new avenues at work this year. I would really like to explore affiliate programs at my workplace so I can learn new skills.
Throw out anything that you haven't used in the last six months. De-cluttering your physical space also helps de-clutter your mind. Less is indeed more, and throwing out what you aren't using is the first step to embracing a minimalist and mindful lifestyle. I threw away a lot of junk last year, and will continue to do so in 2017.
Give up one junk food item this year. It's been over 4 years since I gave up colas (except for the rare drink on a flight or at an event). While anything taken in moderation is not bad for your health, there are definitely some food items (like colas/sodas) which do only harm and no good to your skin, hair and body. This year, I want to give up packaged foods and avoid anything that comes out of a box, tin or can.
Image Credits: L-R by Row: 1, 2, 3, 4, 5, 6, 7, 8, 9, 10, 11, 12, 13, 14, 15, 16, 17, 18, 19, 20, 21, 22, 23, 24